We are always excited to work with members of the Media! Please take a look at our Media Kit and help yourself to our photo resources.
For inquiries please contact our Director of Marketing, Melodie Hilton, who may be reached at [email protected]
San Diego Family Magazine
What a lovely round-up of family-friendly train rides in California from San Diego Family Magazine – we're honored to have both our train and railbikes featured, with some great images!
We always love receiving love from Via Magazine! This great feature is all about Railbikes in the West, and ours is perfect for Adventurers, according to them!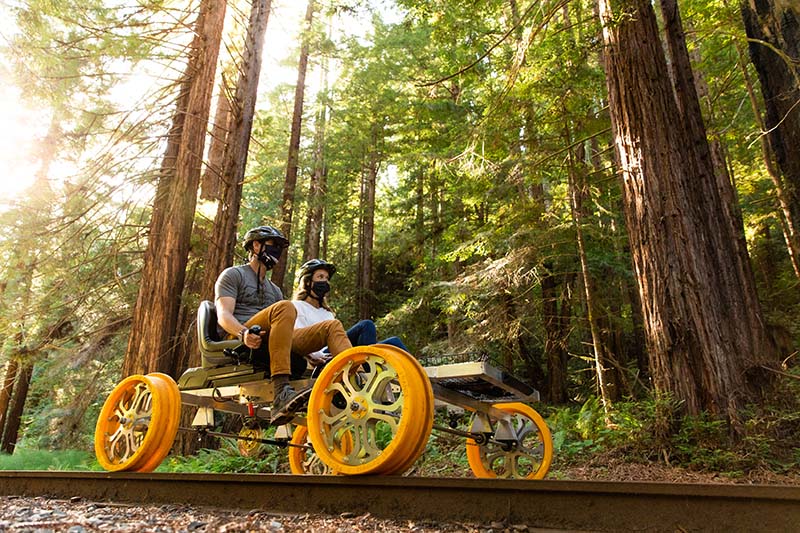 A wonderful review of our railbike excursion!
Fort Bragg - Advocate News
The results of our annual ridership survey.
Thrilled to be part of such a wonderful roundup of Mendocino County!
An amazing view of our railbikes from Collosal!
NBC Bay Area takes a look at our one-of-a-kind Music in the Redwoods series!
The team over at Viva Glam took a trip to Mendocino to find the best things to do, and took a ride on our railbikes.
The LA Times included us in a great list of the best things to do in summertime in California!
The definitive list of what to do in Mendocino for families – and naturally the Skunk made the cut!
A great roundup of what to do on the Mendocino Coast!
An absolutely incredible article showcasing some of what makes Mendocino such an incredible place to visit. We're thrilled to be included!
Great itinerary for some amazing getaways in California – and we love being a part of the Mendocino itinerary. We want to check out a lot of these!
We love this write-up of a trip to the Mendocino Coast, and adore the perspective on the Skunk! Great video, some fun photos – and we learned a bit about our own coast as well!
Great collection of photos and a wonderful write-up of our Railbike experience from HI Travel Tales!
A fantastic collection of unique outdoor experiences to be had on the Mendocino Coast – and of course the railbikes were featured!
Alexandra Doros visited with her family and created an absolutely amazing video of our Railbike experience that perfectly captures the once-in-a-lifetime feel!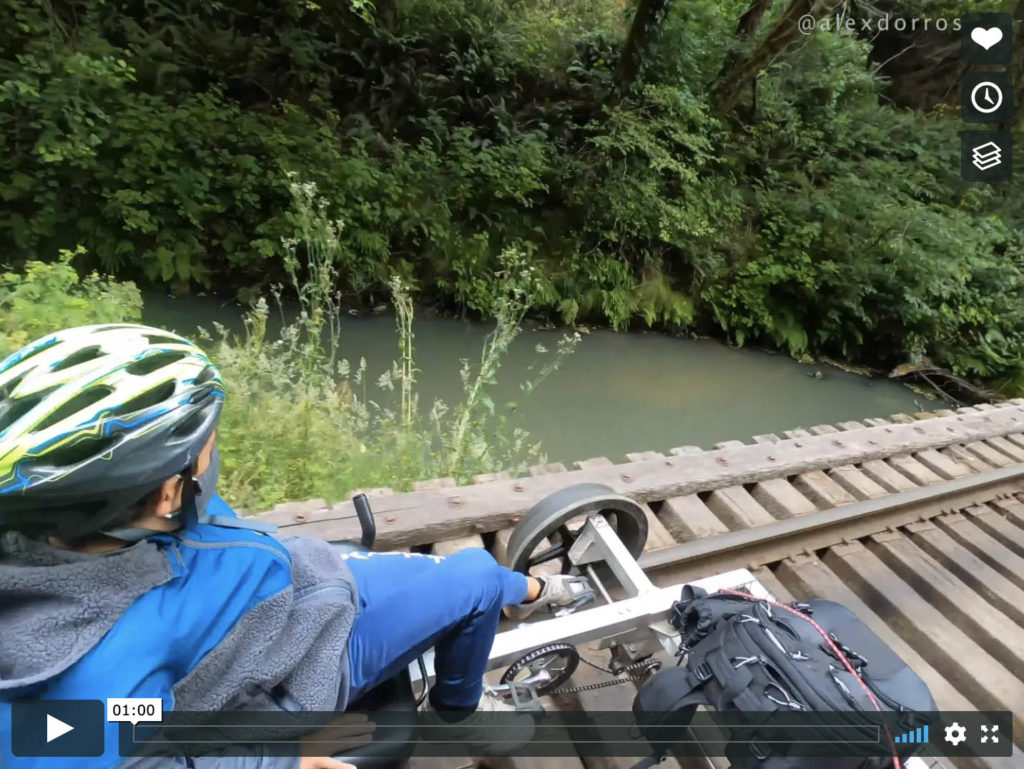 A wonderful roundup of some incredible places to stay, eat, and explore in Mendocino safely – we're thrilled to be featured here!
A visit from RedTri is always appreciated – and they do a wonderful job gathering some great family destinations in this uncertain summer. We're excited to be on the list!
A very nice write-up about the Skunk and our history is up at Trazee Travel.
A great visit to Mendocino and Fort Bragg from Retire Early and Travel, with some beautiful photos of the Pudding Creek Express trip.
This Family Blog came to visit Mendocino and took a ride on the Skunk! Some fantastic photos that really capture our ride, and we teared up a bit reading that the ticket was added to the daughter's memory book.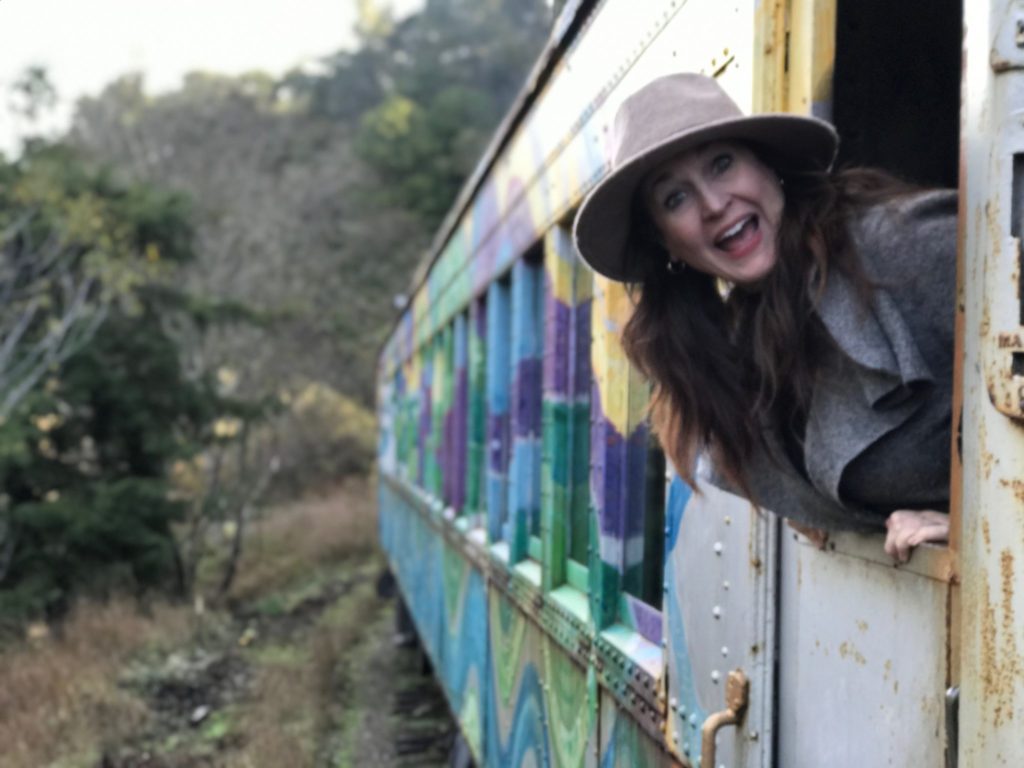 A fantastic round-up of the best ways to spend Halloween in California – and we're thrilled to have our Pumpkin Express included (as the signature image, no less)!
A wonderful visit from Life Beyond Zebra in which they ride the Pudding Creek Express out of Fort Bragg. Some great photos, great insight, and great video here!
Nice write-up of Mendocino County from GoNomad, and we're thrilled to be included in such a great group of businesses and scenic vistas!
Randomland came and visited us as part of an incredible trip along the Redwood Highway – we learned so much about the roadside history of Ukiah and Willits, and absolutely love the feature he put together on his ride on the Wolf Tree Turn!
The great people at Outdoor Families Online came and visited the Mendocino Coast, and we were so happy to have them join us aboard the Railbikes! They had a great time, and we love some of these photos and the nice things they had to say about the experience for families!
Modeliste Magazine came and took a ride on the Skunk and the Railbikes and did a great write-up of both of our core experiences!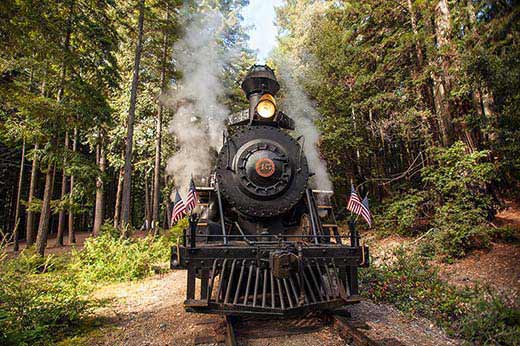 The Press Democrat did a great round-up of outdoor fun on the North Coast, and we love that they loved our Railbike experience!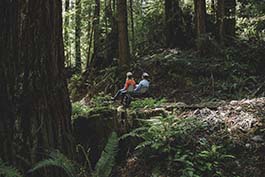 The delightful Little Grunts took a ride on our Railbikes and we love their write-up and their beautiful photographs of the experience!
Arriaga Adventures visited the Mendocino Coast and put together an incredible itinerary of things to do with kids. We're excited to be featured in this – and love the photos!
The Mercury News came for a rainy weekend trip, and took a ride on our newly launched railbikes – we love the resulting article and recommendation1
A great roundup of kid-friendly things to do on the Mendocino Coast – we're happy to be included!
Healthy Travel Mom took a ride on the railbikes and wrote about it – we're thrilled to be featured!
We love this perspective! A visit from Emerging Horizons – a source for accessible travel news – highlighting how our trips are appropriate for accessible visitors.
There are big things in our future! The Press Democrat has a great write-up about our plans for 70 acres along the coast in Fort Bragg.
The Untamed Trail visited Mendocino County and wrote a wonderful guide – including the Skunk Train!
We had a great visit from the delightful Corgi, Little Cooper Bear, who shared his adventure on the Skunk!
Some beautiful photographs of our Pumpkin Express from Eric Burch Photography. 
Hej Doll visited the Mendocino Coast and took some absolutely stunning photos of her visit! We're so happy she was able to take a ride on the Skunk with her family!
Parents' Press visited as part of their roundup of Things to Do in Mendocino with Kids. They had a great time!
A very fun trip from Trips with Tykes to Mendocino County – and naturally a ride on the Skunk!
A Side of Sweet came to Mendocino County, and took a ride on the Skunk! Some great photos here!
Design Mom brought her family to experience Mendocino, and took them for a ride on our Magical Christmas Train!